General Information on the Conference
Each year the Midwest Slavic Association and CSEEES partner together to host the Midwest Slavic Conference. The conference has been held on the OSU campus since 2003 and is normally held in the spring. Participation is open to undergraduate and graduate students, faculty, and independent scholars from across the United States and abroad. Approximately 30 panels are held each year with over 250 attendees from institutions throughout the country and internationally. Conference events include a keynote address, reception, and panels covering film, political science, culture, history, linguistics, and many other disciplines and that focus on all countries and regions of Eastern Europe and the former Soviet Union.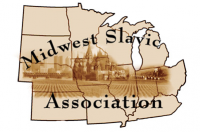 Upcoming Conferences
2022 Midwest Slavic Conference
April 1-3, 2022 - Columbus, OH
The Midwest Slavic Association and The Ohio State University (OSU) Center for Slavic, East European and Eurasian Studies (CSEEES) are pleased to announce the 2022 Midwest Slavic Conference to be held at OSU in Columbus, Ohio on April 1-3, 2022. The conference committee invites proposals for papers on all topics related to the Slavic, East European, and Eurasian world, particularly those that explore issues surrounding climate change: the usage and depletion of natural resources, environmental changes, as well as issues surrounding the changing climates in politics, society, and culture (eco-criticism, eco-poetics, etc.). How has climate change affected the way we live today and our vision of humanity's future, and how might these issues have inadvertently impacted other climates? The conference theme of climate change will naturally tie some conversations to the present and future, but we welcome investigations of the past as well, in addition to papers that do not align with the theme.
The conference will then open on Friday with a keynote address by Dr. Ian Helfant (Colgate U.). Building on the keynote address, a plenary panel will follow on Saturday morning. Panels by conference participants will then commence on Saturday and Sunday. 
Please send a one-paragraph abstract and a brief C.V. in a single PDF format file to cseees@osu.edu by January 28. Undergraduate and graduate students are encouraged to participate. Interdisciplinary work and pre-formed panels are encouraged. Proposals for individual papers will be accepted. 
Deadlines                                                                                                                     
Abstract and C.V. Deadline: January 28
Notification of Acceptance: February 14
Scheduling Conflicts Due: February 16
Panels Announced: February 18 
Final Papers to Chair: March 18 
Presenter Registration Deadline: March 18
Registration Fees
Student Presenters: $35
Faculty/Independent Scholars: $50

General Attendees: $25
Tips for Presentations and Submitting Papers to Panel Chairs 
You should prepare a presentation of 15-20 minutes in length, generally material that can be covered in an 8-10 page paper. If presenting or reading from a paper, be aware that reading directly from a paper is less engaging. Try to make eye-contact with the audience and not read word-for-word from the paper. Each panelist will present, then questions and discussion led by the chair will be at the end of the panel. Be respectful of other panelists' time to allow equal discussion and time for all members. Send your paper to the panel chair promptly and do not send them longer versions of your paper, what you send them should represent what you will present at the conference. The conference rooms will each have a projector and internet access. Attendees should bring their own laptops and any special cords needed for connecting to a/v equipment. You can use PowerPoints or another presentation program, film clips, or other visual aids. Please prepare a backup in case you encounter any issues accessing your presentation. The conference site will have staff on hand to help. If you have any questions about a/v or software in the conference rooms, please email cseees@osu.edu in advance.
For more information on accommodations/transportation, please see OSU's Conference page HERE.